Hill Valley High School was an educational institution in Hill Valley, California. It was built during the later years of the Great Depression and lasted in the original timeline at least up to 1985.
In the altered 1985A timeline, the school burned down in 1979 and its burnt-out remains were surrounded by a chain-link fence topped with barbwire and bearing a NO TRESPASSING sign from the Hill Valley Police Department.
Description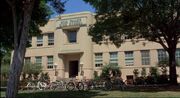 The school gymnasium had a basketball court, as well as a stage. In 1985, the stage had a red, white and blue mural with the slogan "we the people", something that may have been a holdover from the American bicentennial in 1976.
The Enchantment Under the Sea Dance was held in the school gymnasium on November 12, 1955. The school also hosted a Battle of the Bands with auditions on October 25, 1985.