Libyan Driver

Age
30s
Status
Unknown
Height
Unknown
Weight
Unknown
Eye Color
Brown
Hair Color
Black
Portrayed By
Jeff O'Haco (Driver)
Libyan Gunman

Age
30s
Status
Unknown
Height
Unknown
Weight
Unknown
Eye Color
Brown
Hair Color
Black
Portrayed By
Richard L. Duran (Gunman)
The Libyan terrorists, also known as Libyan nationalists, were a group of terrorists that were trying to develop a nuclear weapon and asked for the assistance of Dr. Emmett Brown to build it. However, Doc took the plutonium to power his DeLorean DMC-12 time machine and built a mock weapon out of an empty bomb casing filled with used pinball machine parts.
Back To The Future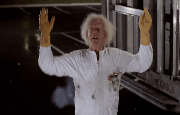 This act, once discovered, fueled the terrorists to hunt down and kill Doc Brown. They tracked Emmett Brown to Hill Valley, California and found him in the parking lot of Twin Pines Mall on the morning of October 26, 1985. Two Libyans drove there in a Volkswagen Station Wagon and found him with Marty McFly. A terrorist shot Doctor Brown with an assault rifle, and then attempted to kill the lone witness, Marty.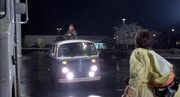 When the rifle jammed, the terrorists chased Marty around the parking lot. As Marty reached 88 miles an hour, with the time circuits activated and the plutonium chamber full, the flux capacitor activated and the DeLorean experienced temporal displacement.
The ensuing flash of light disoriented the terrorists, and their van drove into a Fox Photo stand. Before Marty went back to the future, he wrote a warning for Doc, who wore a bulletproof vest that night he was shot and survived the attack.