Linda McFly is the middle child, and only daughter, of George and Lorraine Baines-McFly. She was born in 1966 in Hill Valley, California and is the younger sister of Dave and elder sister of Marty. She graduated from Hill Valley High School in 1984.
Back To The Future
Linda took after her mother in that she liked boys, and was always wondering how to get a boyfriend. She liked wearing eye shadow — a lot — and had thick glasses. She did not like to be the "answering service" for her family on the phone, but otherwise very little is known about her.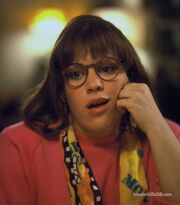 By 1985, she did not appear to be doing much with her life. It is unknown whether she was in college or if she had a job, but she did not have a boyfriend as of 1985. Linda had heard the story of how her parents fell in love "a million times", judging the circumstances around how they first met ridiculous due to her maternal grandfather hitting her father with a car, yet still could not remember the name of the dance, which she recalled as the "Fish Under the Sea" dance, which is somewhat understandable as the dance occurred three decades ago and her expression of "a million times" is likely intentional sarcasm at being subject to hear redundancy of the romance of her parents. However, she did correctly state that the dance was the same night as the infamous electrical storm that hit the clock tower, which seemed more plausible to remember than the dance as the storm made its mark in Hill Valley history, and was a key point for the Hill Valley Preservation Society.
After Marty changed the events of the past and returned, her parents were much more confident, and so was Linda. She now had a job at a boutique, and had gained the attention of multiple boys, including Paul, Greg and Craig. She appeared a lot happier, she no longer wore glasses (presumably wearing contact lenses instead), and her dress sense was much improved in this reality.