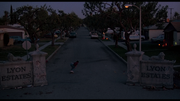 Lyon Estates was a subdivision developed around 1955 located two miles from downtown Hill Valley, California. Marty McFly lived here in 1985 before moving to Hilldale. It was on the same side of town as the Twin Pines Mall, formerly Twin Pines Ranch, connected presumably by a highway and a mile apart.
Notable Events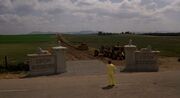 In 1955, Lyon Estates was in the very early stages of construction, with only the lion statues in place and groundbreaking scheduled for the coming Winter. The future housing development was advertised on a billboard promising the opportunity to "Live in the home of tomorrow ... today!|LIVE IN THE HOME OF TOMORROW... Today!" The billboard portrayed a house resembling the house the McFlys would live in 30 years later.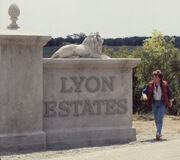 In the early morning of November 5, Marty hid the DeLorean DMC-12 behind the billboard. Marty and Doc retrieved it that evening.
In 1985, he McFly residence was located at 9303 on a road in Lyon Estates. Behind the houses stood electrical towers.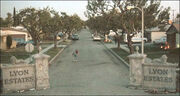 In the very early morning of October 26, Doc dropped Marty off home and left for his first trip into the future. Later that morning, he returned there from the future, picked up Marty and Jennifer Parker, and left for the future.
After returning to October 27, Marty ran back to Lyon Estates to get his truck and drive to Jennifer's house. Still wearing his 1885 clothes, he briefly encountered his family and Biff. It was seen that the two lion gates were noticeably much cleaner and free of graffiti than in the original 1985.